Fortunately, even a poisonous snakebite does not automatically mean that your horse will be in dire straits, but if you wait before seeking treatment and an anti-venom cannot be given quickly, your horse may sustain severe tissue damage. Fatalities in horses do occur if a venomous snake bite to the neck or nose occurs since this may obstruct the airways to such an extent that the animal suffocates.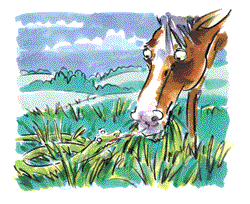 The best course of action to take is to keep the horse calm so that the poison will not travel through the body any faster than necessary. Do not remount your horse to ride it back to the stable since this, too, will get the blood pumping faster than is good. Instead, slowly walk your animal back to its trailer or stable. If at all possible, see if a veterinarian can meet you on the riding trail. Some riders swear by carrying six inch portions of a cut up garden hose that they will lubricate and insert into the horse's nostrils after a snake bite to allow the animal to keep breathing as the swelling sets in. If your animal is bitten on the leg, you should place a wide band around the affected limb to compress the veins but not the arteries. By opening and re-closing the band every 15 minutes, you will slow down the spread of the poison while preventing damage to the tissues.
Clean the bite wound with soap and water but do not resort to the method of cutting open the bite wound to suck out the poison. While this is a staple of the old Western movies, it only makes matters worse. Similarly, you should stay away from compresses since these, too, have shown to accelerate the damage. Instead, your veterinarian will be able to apply anti-inflammatory drugs, anti-venom and also a tetanus booster to keep the horse healthy.