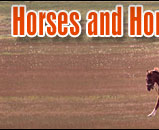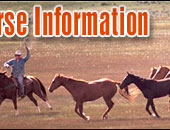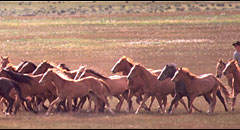 You are here: Horses > Horse barns / fencing
Horse Barns, Stables and Fencing Information

If you aren't planning to board your horse away from home, you may be considering upgrading an existing barn or even building a new one. Like any building situation, barns have to meet certain standards to comply with your local building codes, and they have to suit your equines, your land use and your wallet. Budgeting for your barn will be the biggest part of the challenge as long as you find and hire a barn-building expert to take care of the actual building. But if you are the do-it-yourself type, expect your first barn to be a big learning experience—there's a lot to know!
The weather is an important factor in the type of barn you choose: in warm, temperament regions, your horses may do just fine with a three-sided run-in shelter that gives temporary respite from storms. But if you have four seasons and horses that matter to you, you'll want to build stables worthy of your equine partner. A comfortable stall, access to feed and water, and a place to keep tack and currying implements doesn't have to be big, but it can keep your horse happier and healthier.



Equine Barns, Shelters and Stables

Horse Fencing




Considerations When Building a Barn or Horse Stable

There are a lot of factors to consider in building even a simple barn. Zoning, building codes and the space you have are just a few things that will influence the kind of barn you wind up with. It's important too to hire someone whose expertise is specifically in building barns, not homes, because there are vital differences between the two. Your barn builder will have to consider light, space, ventilation and storage as well as planning for the size and other requirements of horses.

Aside from considerations of shelter, there is the issue of containment. If you plan to keep horses on your property, adequate fencing is imperative. There are different kinds of fences—traditional wooden posts, electric fencing various types of wire, coated steel and PVC—and all have their virtues and their drawbacks. Check out the articles below for information, advice and tips on barns and fencing.



The Right Saddle for Cutting or Reining
For cutting and reining horse events, you definitely need a saddle that's designed to help you "ride in balance and sit the stop." First, you want a saddle that was designed and built specifically for reining or cutting. Both of these designs have their individual advantages but remember, just because the manufacturer "calls" it a reining saddle doesn't mean it was designed "well" for reining.
Browse more horse training resources that will help you better train your horse.

Horse Education
Horse Information Topics
Horse Business Owners
Advertise with Us
Have your horse products or services exposed to over 27,000 of our monthly visitors.