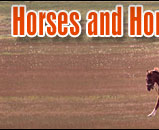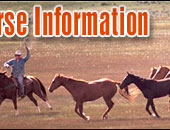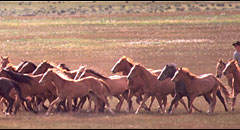 You are here: Horses > Horse Breed Descriptions
Horse Breeds: Basic Descriptions of Widespread Equine Breeds

Horses are described in numerous ways; breeds, types, 'bloods' and purposes. When looking at shows or sales descriptions its very easy to be confused by the different descriptions used. We have complied a short list of some of the more popular horse breeds with a picture, so that you can more easily identify the breed types we are referencing.
Please take a look at the horse breed information we have complied in the below articles. Each article contains a description and picture of the equine breed listed.

Popular Breeds of Horses Around the World (Pictures too)


Types of Equine Breeds

Coldbloods - Larger, gentle horses for working or hauling.


Hotbloods - Swift, fast horses used for racing and speed.


Warmbloods - Great breed for equestrian sports and competitions.





Horse Tack & Riding Equipment Maintenance
Tack needs to be maintained religiously. Synthetic tack can be hosed down or washed in the washing machine. It's lighter in weight, easy to care for, and less expensive than leather. Leather, needs much more care. Inspect it every time you clean it. Wash it every time you use it, and then oil the leather parts a few times a year.
Browse some different types and styles of synthetic and leather horse tack available online.

Horse Education
Horse Information Topics
Horse Business Owners
Advertise with Us
Have your horse products or services exposed to over 27,000 of our monthly visitors.