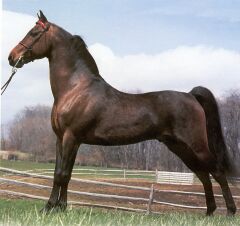 photo courtesy of Deborah Frowen
This wonderful horse died in 1821 when he ws 32 years old, from an untreated kick received from another horse.
All modern day Morgan's are traced to Justin Morgan's most famous three sons, Sherman, Woodbury,and Bullrush. Justin Morgan himself, was probably a combination of a Welsh Cob, and possibly a thoroughbred.
The American Saddlebred and Standardbred, and the Tennessee Walking Horse, all have some Morgan blood in their lines.
The Morgan is used in both ridden and harness classes, and pleasure riding too. At one time, the Morgan was the official horse of the United States Army.