one. It is recorded that Queen Isabella sent a Palomino stallion and five mares to her Viceroy in New Spain (now Mexico). From there, the blood spread into Texas, and from Texas it came to California.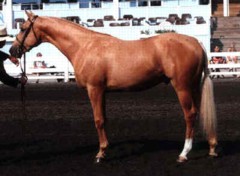 photo courtesy of RD Greenwood
The word "Palomino" is a Spanish surname. Many feel that Palomino is only a color and not a breed, which is true that the color of Palomino comes in all breeds, but the Palomino of Spanish times, the Golden Dorado, was as close to being a breed as any strain of horse. The Dorado was of Arabic-Moorish-Spanish blood and breeding, closely akin to the Arabian and the Moorish Barb. This point has been noted in an old book and printed in Barcelona in 1774.
The Palomino is a multi-purpose horse. They are admired not only for their beauty but for their versatility, maneuverability, and endurance. They are to be found in ranching, racing, rodeos, pleasure riding, parades, shows, fiestas, jumping, trail rides, and all other equine activities.
We even have a few movie stars including, Mr. Ed and Trigger, who were registered with The Palomino Horse Association.