This horse provides riding comfort, strength and stamina for the avid trail rider and has a calm disposition. Its flashy presence and gait have a natural tendancy to set the exhibitor and parader apart from others.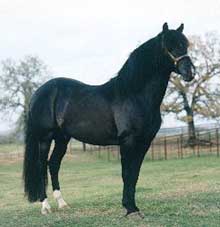 photo courtesy of Christine Thorpe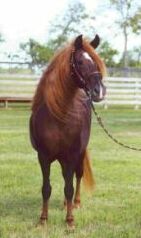 photo courtesy of
Janetta Michael

No special training is necessary to enable the Peruvian Paso to perform its specialty - a natural four-beat footfall that provides a ride of incomparable smoothness.
Peruvian Paso horses come in all basic, solid colors as well as greys and roans. The breed, because of its direct link to the Barb horse, has some striking color tones and shades.
The average height of the Peruvian Paso is between 14 and 15 hands and the weight is commonly between 900 and 1,100 pounds, about the same as Morgans and Arabians.
Paso Fino

The Paso Fino is the American-bred equivalent of the Peruvian Paso, with all the same fine qualities
Although some outside blood was occasionally added to gain size, usually Arabian, Morgan or American Saddlebred, the modern Paso Fino is a close representation of the old Spanish Jennet and still can be thought of as one of the world's most coveted palfreys.
There is probably no smoother horse to be ridden than a Peruvian Paso or Paso Fino.