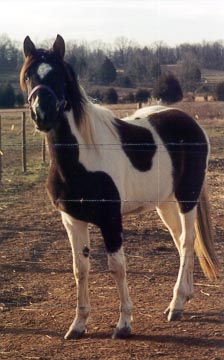 photo courtesy of Dry Creek Horse Farm
You would think with the unusal gait that the rider might be uncomfortable. But just the opposit is true, the rider does not feel the effects of the movement.
Other gaits of the Fox Trotter include the cantor, and the "four-time walk", performed with the hind feet overriding the front track.
The Missouri Fox Trotter comes in all colors, but mainly chestnet, and stands at 14-16 hands in height.