History of the Breed

The breed originated in northern Germany in the state of Lower Saxony, the former kingdom of Hannover. A flourishing horse-breeding industry has existed here for almost 300 years at Celle. Although the Hanoverian Studbook was officially begun in 1888, detailed pedigrees have been kept since the late 1700's.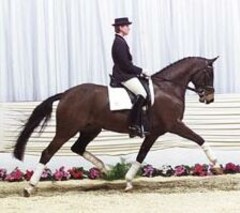 photo courtesy of Willi Brunckhorst
Orinially, Thoroughbreds were crossed with Holsteiner mares to improve the quality of horses for cavalry and farming. In the past 70 years, the Hanoverian breeding program has adapted to the need for a more athletic riding horse, introducing other breeds as appropriate. The result is the modern Hanoverian horse.
Breed Characteristics
The Hanoverian has elastic gaits characterized by an elastic ground-covering walk, a floating trot, and a round, rhythmic canter.
The Hanoverian stands at 15.3 to 16.2 hands. They are strong and athletic, and are quite even-tempered.