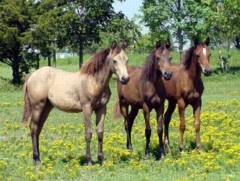 photo courtesy of Linda Harper
Warm blooded horses are popular in Olympic sporting events such as dressage, and many European breeders are breeding warmbloods for competition. The Hanoverian is one currently breed popular for eventing. Warm-blooded horses are also considered perfect for riding, and in America, the West was won on the backs of warmblood breeds. Considered perfect for roping, cutting and herding, the fortunes of cattle owners increased by the warm bloods and the cowboys who rode them, pushing thousands of head of cattle to the rapidly populating and hungry Western city centers. Most popular American breeds—the Quarter horse, the Tennessee Walking horse and the Palomino—are all examples of excellent horses derived from the original breeding of draft horses and Arabians.

If you plan to ride as a sport but aren't looking for a heavy work horse, you will probably buy a warmblood breed. They aren't quick-tempered as hot bloods, but they have a different life's purpose from cold bloods. Excellent for riding, dressage and other events, warm bloods are also the breeds for people who want their children to experience the joys of horseback riding.
Here are some of the warmblood breeds: