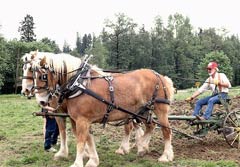 Clydesdale Horse Picture




Although horses with black legs may sometimes also offer a black feather. Originally developed for protection against harsh weather, the feather is manly for show.

Horses with a white muzzle typically have black spots around the chin and lips and a white mask usually covers the face. White feet may extend up to merge with the white underbelly, they can also end at the top of the feather. Another characteristic of the Clydesdale horse breed are black and white striped hooves.

Queen Elizabeth II saw a colorful Clydesdale pulling a milk cart and was so impressed with the animal she pressed it into royal service as a drum carrier to haul a 90-pound silver kettle used by the Household Cavalry band. Similarly, colorful horses today are referred to as drum horses or gypsy horses and are bred for their color, long mane and tail.
Clydesdale Horses Ė Breed History
From their use as warhorses in the 17th century to their work in advertising today, the Clydesdale horse breed has undergone powerful changes. In Clydesdale, Scotland, now known as Lanarkshire, the animal was named for the town where it was used as a draft horse on area farms. Believed to have a history of over 300 years, the strong yet amiable animal was used in farming as well as pulling heavy loads in rural settings, as well as is urban and industrial areas.

As recently as the 1960ís they could been seen pulling carts of milk and vegetable and are perhaps better known as the advertising celebrity for Anheuser-Busch Brewing Company. Right after then-president August A. Busch II admonished his son for buying a new Lincoln Town Car during the depression, he found outside the brewery in St. Louis, Missouri a Studebaker beer wagon with an eight-horse hitch of Clydesdales. The horses remain today as the companyís mascot.

The Clydesdale population dipped to a low of about 80 animals and in 1975 was on the vulnerable list for survival. With the Clydesdale horse breedís growing popularity, their population is estimated at over 5,000 and growing with an estimated 600 foals each year.

Traditionally used for heavy labor, the Clydesdale horse breed has been mostly replaced by tractors and other machinery except by farmers who reject the industrial way of life and on eco-friendly farms, as well as in some remaining logging operations.