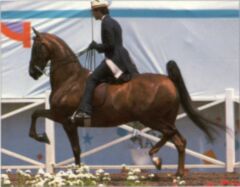 photo by Elwyn Hartley Edwards
In addition to the usual walk, trot, and cantor, the Saddlebred performs the slow gait, a prancing four-beat motion with a deliberate pause before each foot-fall, and the "rack", a full-speed flashy four-beat gait.
The American Saddlebred stands at 16 hands, and in addition to the show ring, can cut cattle, jump well, and is a pleasure to trail ride. It is an excellent competitor in dressage.
This is an intelligent horse with a good dispostion, has good stamina, well balanced, with good jumping ability -
a real pleasureable horse to own.