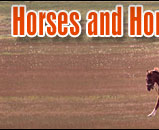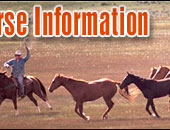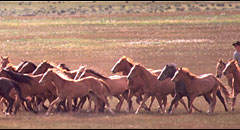 You are here: Horses > Horse rescue / adoption > Equine rescue leagues
Horse Rescue and Rehabilitation Organization are Equine Guardian Angels

Not everyone who owns a horse should. Inexperienced riders or first-time horse owners should not own untrained horses, for instance. Whether through ignorance or cruelty, many horses are kept in deplorable conditions or mistreated.
One such story occurred in Indiana, where almost forty horses were kept on the brink of starvation in horrible conditions. When concerned neighbors heard too many stories about the horsesí poor condition and neglect, they decided to act.

One woman pretended she had once stabled her horses at the barn and asked if she could look around, and discovered the poor, nearly skeletal animals standing in knee-deep manure and urine.

After the state police were notified, they asked the Animal Kindness Organization to help them in assessing the horsesí condition. On a Perdue scale, three of the animals rated a deplorable minus one.

The Animal Kindness Organization was not equipped to handle equine rescue. Usually dealing with the problem of neutering cats and dogs, they nonetheless tried to help with the thirty eight starving horses. Although the horses quickly overwhelmed the organization, news coverage helped to spread the story, and people across the area called to offer feed, homes, and help with the horses.

In some areas, there are local organizations which specialize in stopping horse abuse and neglect and help to rehabilitate abused animals. Their success rates vary, as do their goals. Some try to find adoptive homes for retired racehorses, while others find good, relaxing homes for elderly horses to live out their remaining years. Others try to crack down on abuse. Almost none receive financial help from the government, and almost all depend largely or totally on volunteers, private donations, and fundraising.

One such example is the Days End Farm, run by Kathleen Schwartz. Opened in 1989, she did not receive non-profit tax status until 1991. Now she accepts horses that have been abused or neglected, working with animal control agencies in the area. Most of the neglect cases she sees are either cases of starved horses, or those with severe and untreated hoof problems. The staff at the Days End Farm helps to build abuse cases by taking pictures.

When a horse is impounded, it is taken in by the farm and given proper feeding, vet and farrier care, and training to try and rehabilitate it. While most of the horses at the Days End Farm may never be rehabilitated to the point where they can be ridden again, they can still make excellent companion animals for other horses.

After the rehabilitation process, the horses are put up for adoption. The screening process is exacting. Also, the Days End Farm only surrenders possession of the horse, not its title. This way, if the adopter cannot keep the horse or does not properly care for the animal, the Days End Farm can take it back. Although the farm can occasionally accept horses that havenít been abused but are simply no longer wanted, it often has to turn those animals away. There are more abuse and neglect cases than it can handle, and those horses take precedence.

The staff at Days End believes that education is the key to stopping horse neglect and abuse. To that end, it goes to great lengths to teach others about the needs of horses.

They offer a Horse Loverís Badge through the local Girl Scouts. To earn this badge, the Girl Scouts work in the barn caring for horses, and learn through first-hand observation of the neglected horses just what happens when they arenít cared for properly. The Days End Farm also offers programs for school children and works with the handicapped. They also attend horse shows and seminars to hand out brochures and information on horse care.

The Days End Farm organization also works with the University of Maryland to help train animal control personnel, some of whom have never worked with horses before. New animal control officers can come to Days End and learn how to put on a halter, properly lead a horse, and how to pick up its hoof to examine it.

Another horse rescue organization is run by Debbie Frank in Baltimore County, Maryland. Equine Rescue and Rehabilitation, Inc. (ERRI) was formed as a non-profit organization in response to complaints received by the Maryland Horse Council regarding neglected and abused horses. They assist county officials to rescue and house horses who are being mistreated.

Unlike the Days End Farm, ERRI can only accept horses who have the potential to be rehabilitated. They have a group of neighboring farms which helps to take in some of the animals that ERRI cannot accept. ERRI has high standards not only for the horses it takes in, but for the families who adopt them after rehabilitation.

If a person is interested in adopting a horse from ERRI, they must first lease the animal. They are responsible for the expense of boarding it, and ERRI staff make sure that the potential adopter and the horse get along well. If the boarding experience works out well, the person is allowed to adopt the horse, although they can never sell the animal.

Everyone at ERRI, from employees to volunteers, are active in training. They offer riding lessons to help offset the cost of operations, and they use some of their rehabilitated horses in educational programs for would-be owners.

Another group looks for potential abuse before it starts on the national scale. Called the Standardbred Retirement Foundation (SRF), it accepts horses who are unable to continue to compete and helps to place them in homes. Like the Days End Farm and ERRI, it does not sell the horses it accepts, but allows carefully vetted applicants to adopt them.

The Foundation also continues to monitor the horse until the end of its life. It has placed retired horses in thirty two states.

Every horse accepted by the SRF is carefully screened. A complete history is gathered before adoption so the horse can be placed in the best possible home. Adopters are also put through a vigorous screening process. Many SRF horses have found new leases on life as hunters, jumpers, endurance and pleasure riding horses.

SRF also offers a program called Youth in Focus, which blends the needs of its horses with the needs of challenged or disadvantaged youths. This program teaches basic horsemanship to these young people who might never have a chance to interact with horses otherwise.

So how can you help equine rescue organizations?

1) Become a volunteer. Organizations generally need help all the time, but weekday business hours tend to be the most difficult to cover.

2) Donate. Every bit of tack, feed, or money helps.

3) Collect the proofs-of-purchase from your feed bags. Many times, participating equine rescue organizations can receive donations from your farm co-op by collecting these.

4) Get involved. Participate in fund-raising events like seminars and symposiums.





Read the next horse rescue article on Keeping Your Horse Safe.



Horse Tack & Riding Equipment Maintenance
Tack needs to be maintained religiously. Synthetic tack can be hosed down or washed in the washing machine. It's lighter in weight, easy to care for, and less expensive than leather. Leather, needs much more care. Inspect it every time you clean it. Wash it every time you use it, and then oil the leather parts a few times a year.
Browse some different types and styles of synthetic and leather horse tack available online.

Horse Education
Horse Information Topics
Horse Business Owners
Advertise with Us
Have your horse products or services exposed to over 27,000 of our monthly visitors.