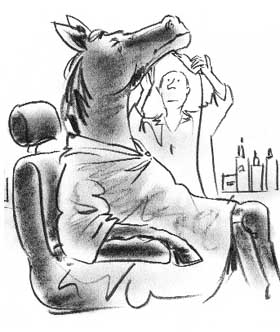 For example, show horses require a different grooming regimen than workhorses ridden regularly. Nonetheless, the tools will most likely be the same: you will need well-oiled clippers with properly sharpened blades, a shedding blade, curry comb and finishing brush as well as plenty of energy!

Training a horse to be groomed will take a bit of time, and if you choose the wrong approach you will make your job harder than is necessary. Instead, introduce the animal to the clippers – while they are still turned off – and then turn them on while you are not actually clipping. This will permit the animal to become acclimated to the sound. For the very skittish animal it may help to have a trusted friend stand by the horse's head to reassure it.

When you are ready to begin your grooming regimen, you will want to form a bridle path first. Keep your horse's breed in mind when beginning to remove portions of the mane. As you clip downward, make sure that you make a straight cut and keep the remaining mane at a defined edge. Generally speaking, you will want to keep at least ½ inch on the occiput bone. Next you will want to clip the hair around the edges of the ear. It is usually a good idea to clip from the top to the bottom of the ear while folding it vertically. You will be able to clean up behind the ear by pressing it flat.

The muzzle might be a bit trickier, so you will want to be very careful when trimming. Remove the long hairs around the nostrils, edge of the mouth and eyes first, and then continue on with the underside of the muzzle. Make sure to blend the cut at the cheeks, so that it does not look choppy.

As you move down to the legs, you will want to begin by removing the hair above the coronet and then clipping the fetlock hair over the ankle. The back of the leg is groomed by working your clippers against the growth by tracing it up from the ergot mark until you reach the knee. Show horses will require extra attention, since their coronet hair will usually be removed and thus the hooves will need dressings to prevent moisture loss.