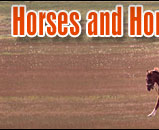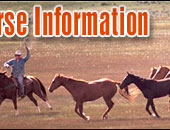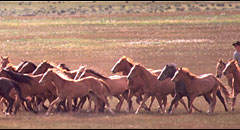 You are here: Horses > Horse care > Clean slate
Spring Cleaning Your Horse

Over the winter months you horse will likely get a little grubby especially if they have been turned out during this time and hasnít done much in the way of riding or grooming. This is the time when you should spring clean your horse.
The mane and tail is the best place to start. Spray on a detangler and let it dry before removing the burrs from the tail and the long, unpulled mane. To start you should gently pick each burr out by hand and untangle the knots to your best ability before you use a comb since this will come in later steps.

Next you should use a currycomb to give the horse a good grooming that will loosen the dried mud or ground in dirt. Use a stiff brush and then finish off with a soft brush. The head and bony areas of the legs should be brushed with care and a softer grooming tool.
After the dirt is gone you should pick a warm day to give the horse a bath with an antifungal shampoo. Follow the direction on the label so that you can stop any potential or existing skin problems. Water repelling oils on the coat are removed during the bathing process so you should bath them when there is no forecast for rain otherwise you will want to give them a waterproof blanket or sheet before turning them out. The horse should have time for their natural waterproofing to return before they get wet.

Use a clean towel to dry your horse as completely as possible after the rinsing and scraping. Again spray the mane and tail with a detangler. A horse can be allowed to finish drying in comfort by covering them with an antisweat sheet and then a wool cooler in case the weather is still a bit chilly.

Use a cream rinse after washing if you have a horse with a long, tangled mane or tail. Human products work well, but there are also several products that are specifically made for horses. Use a wide toothed plastic comb to gently comb the mane. Use your fingers to pick out any bad tangles if necessary. It may be tempting to use scissors but the resulting mess will take months to grow out completely. You can put the mane at the desire length once you have completely gotten rid of any tangles.

Pulling on the tangles will not only thin but also shorten the horseís mane and tail and over the winter naturally thin manes will have gotten longer so pulling can cause it to become too thin. A better option is to backcomb and cut to the desired length while using a stripping comb.

Caring for tails has some debate and many think the tails of a horse should never be combed. If you decide to brush you should start at the bottom of the tail with a soft brush and work upward. Use your fingers to loosen any bad tangles and brush out a few hairs at a time. This may be a time consuming process, but periodically using detangler spray can help you to maintain a beautiful and long tail with not much effort.

Trim the hair under the horses chin, the long whiskers on the nose, the hair that grows outside the ears and the long fetlock hair in order to have a good finished look. Leave the long hairs around the eyes and coronet band in addition to the hair inside the ears unless you plan on showing the horse. For spring checkups you should always schedule the horse for a visit with a farrier and vet.





Read the next horse care article on Grooming Your Horses Tail.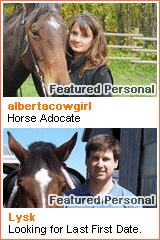 Visit Equestrian Cupid now.
The best and largest equestrian club for meeting the other half for friendship and marriage

Horse Education
Horse Information Topics
Horse Business Owners
Advertise with Us
Have your horse products or services exposed to over 27,000 of our monthly visitors.