If none of these equine problems appear to exist for your horses and veterinary attention fails to yield any appreciable results, here are some suggestions that may help: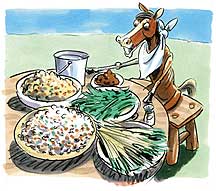 Concentrate on feeding hay that is of highest quality. Add some alfalfa hay to the horse's diet (5 or 6 extra pounds). This adds 300 calories per pound to the horse's feed! Using high fat feed is another way of adding calories. Conditioning chaff as well as rice bran can be added to your food regimen to help the animal take in some more calories.

Choose a senior feed for horses over age 15 or for younger horses in poor dental health. This will permit these horses to extract the nutrients they need from this specially adapted feed that is a bit easier to chew and digest.

Probiotics have been found to help the nervous and otherwise stressed horse to regain an intestinal balance of digestive enzymes. Keep in mind that this process may take a few days to show any signs of success!

Allow low-weight horses to eat by themselves to avoid rivalries within the herd. Generally speaking, the more dominant and aggressive horses may be eating it's the thinner horse's share. Even adding more feed will not alleviate this problem.

Be sure to change your horse's feed to one that has more fat. When you use a high fat formula, you can afford to feed the horse less, which will cut back on colic. You can find formulas with varying levels of fat at your local feed supply store.

Keep a close eye on the horse's weight by scale once a month. This will help you to realize if something you are doing is working, and to maintain the weight gain.
Of course, all dietary changes should be undertaken cautiously, and with an open eye toward adverse effects. Add new feed slowly, otherwise you may be causing your horse some additional intestinal upset, which may counteract everything you have worked so hard for. Any time you are making a major change in your horse's diet it is best to follow up with your vet for further advice.