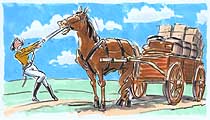 Sporadic occurrences may be traced back to localized muscle strain. As such, it is a very common occurrence, especially if the horse is not properly warmed up prior to exertion, if there is an issue of lameness, or if the horse is over-exercised. This muscle strain can be traced via a blood test checking for creatine kinase which enters the bloodstream once muscles incur some damage. If you find that your horse is suffering from a sporadic occurrence of tying-up, you will want to rest it in a stall with plenty of fresh water available to it. Depending on the severity of the symptoms, your horse may or may not require pain relievers. You will want to contact your vet to make that determination.

For those horses suffering from chronic tying-up, you will want to consider a change in diet. This should include a high quality hay feed as well as a mineral and vitamin supplement. Additionally, if the muscles have been obviously damaged by a bout of over-exercising, your will want to give those animals a longer rest period – usually a couple of months – and then gradually resume the training. At that point you may also increase the amount of grain you feed. Once the horse is back to its pre-injury performance level, consider feeds with high levels of fat since they are more energy-dense.

Should you own a horse that is affected by chronic tying-up, make sure to get this diagnosis via a blood test which checks – among other things – the serum chemistry as well as the vitamin E concentration, and also via a urine test that measures the electrolytes. In extreme cases, muscle biopsies may be required. The latter have indicated that there are at least two kinds of tying-up: Polysaccharide Storage Myopathy is found in warm bloods, draft breeds, and also breeds associated with quarter horses and the more serious Equine Polysaccharide Storage Myopathy which is found usually in draft breeds only.

To counteract this condition, horses will benefit from daily rations of rice bran as well as grass hay, since both have been indicated as reducing blood glucose as well as insulin and muscle glycogen. In addition to the foregoing, high fat feeds or supplementation with vegetable oil – in part to reduce excitability - may also be required. To prevent further episodes of typing-up, exercise should be resumed gradually once blood serum levels are once again within the normal range; within 24 hours of a bout with tying up, a daily turnout in a paddock is actually recommended.