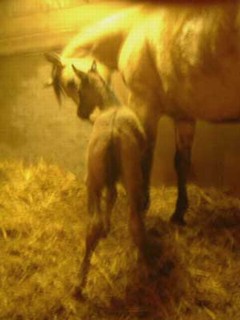 photo courtesy of Tim McHenry
What Is The Best Time Of Year To Breed?
Mares have a natural breeding season. Increasing daylight stimulates receptor centers in the brain, which in turn trigger the production of reproductive hormones. These hormones initiate the pattern of regular periods of 'heat", or estrous, that characterize the breeding season each spring. These periods continue throughout the summer, and cease during the autumn.
By artificially increasing the amount of light - for instance, by using electric lights in a stable - it is possible to begin the breeding season earlier. This practice is prevalent in Thoroughbred studs, which try to produce the foals as near as they can to January 1st, the official birthday of all Thoroughbred racehorses.
The ideal time for a foal to be born is between May and July, when most grass is available to help the mare's milk supply. Because pregnancy in horses lasts 11 months, the best time to have the mare covered is from June through August.
Should I Breed From My Mare?
Although horses do not have many problems in breeding, it is advisable for novices to think twice before putting their mares in foal. Rearing a foal means extra work, and demands special facilities, including separate accommodation for the foal when it is weaned. If the mare is pure-bred, there could be financial benefIt from breeding. Breeding crossbred animals, however, is unlikely to be a financial success: the extra outlay required outweighs any potential profit.
Is My Colt Good Enough To Use As A Stallion?
Very few home-bred colts are good enough to use as stallions. There are many first-rate stallions available commercially, and it is far better to use one of these. In any case, young colts are difficult to handle and are probably better gelded, unless there is a specific reason for not doing so. Both colts and stallions need expert handling, with the sort of experienced skill that is ordinarily available only on studs; it is difficult, if not actually dangerous, for amateurs, and is not to be recommended!
Could My Mare Be Too Young Or Too Old To Breed?
Mares often go on breeding until late in life, and suffer no ill effects from it. This is certainly true in general of animals that have bred regularly; it is more difficult to get an old mare in foal for the first time.
Fillies become sexually mature at around 18 months old, and can foal as two-year olds. However, they are still growing at this age, and pregnancy may hinder their growth. Ideally, mares should not begin breeding until four years of age (to foal at five years), although some are put in foal when they are three.
How Often Does My Mare Come Into Season?
During the breeding season from March to October, mares show regular seasons lasting four to six days. These recur 14 to 16 days after the end of the previous season. Mares thus have a breeding cycle of around three weeks duration.
At the beginning and end of the stud season, mares may show irregular estrous cycles.
How Can I Tell If My Mare Is In Foal?
Mares do not usually show much sign of abdominal enlargement until the last three months of pregnancy. The enlargement is obvious in narrow, light-framed animals, but in larger, broader-framed individuals it may be impossible to discern. Mammary development is usually obvious in maiden mares during the last month, but in mares that have previously foaled, 'bagging up' (mammary enlargement) may not be apparent until shortly before foaling.
How Long Does Pregnancy Last?
A normal pregnancy in horses lasts approximately 11 months - around 340 days. Colt foals tend to be carried longer than fillies. Premature foals may be born and survive, with intensive care, after 310 days gestation. Foals may, on rare occasions, be carried three to four weeks over time.
Are There Any Precautions I Should Take During Her Pregnancy?
The largest part of a foal's development within its dam's uterus occurs within the last three months of pregnancy. Mares can safely be ridden for the first six months of the gestation period, but after this there may be a risk of losing the unborn foal. Extra food, particularly protein, is required during the last three months of pregnancy, to support fetal growth.
Regular exercise is important for keeping a mare in good condition; pregnancy sometimes interferes with circulation in the hind legs. Extreme cold seems to have no adverse affects on fetal well-being, and mares should be turned out for daily exercise, rather than confined to a stable.