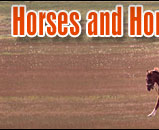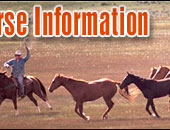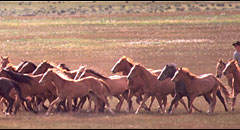 You are here: Horses > Horse Adoption and Rescue > Arkansas
Find a Arkansas Horse Adoption or Rescue Group Located In Arkansas

Pinewood Creations and Equine Rescue Bismarck, AR
We started rescuing in 1982, rehabilitated and found good homes for over 600 horses. We take all horses, all breeds, for any reason. Starved, injured, abused or wild. Currently we can house ( in a stable or paddock) 15 horses. We are clearing more pasture and building a new barn in order to house more horses with a current goal of housing up to 25 horses.






The Right Saddle for Cutting or Reining
For cutting and reining horse events, you definitely need a saddle thatís designed to help you "ride in balance and sit the stop." First, you want a saddle that was designed and built specifically for reining or cutting. Both of these designs have their individual advantages but remember, just because the manufacturer "calls" it a reining saddle doesnít mean it was designed "well" for reining.
Browse more horse training resources that will help you better train your horse.

Horse Education
Horse Information Topics
Horse Business Owners
Advertise with Us
Have your horse products or services exposed to over 27,000 of our monthly visitors.