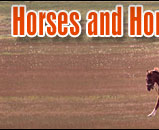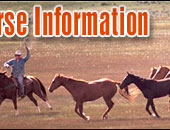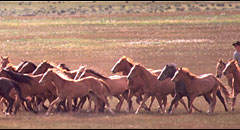 You are here: Horses > Home

Horse Information on Breeding Horses, Equine Care, Training & More...

Horses & Horse Information has hundreds of equine articles so many horse owners, riders and breeders enjoy reading as an information resource. New information- stuffed horse articles are being written on a regular basis by the most experienced horse professionals in the world. Everything is here, including 105 topics on horse health, diseases and nutrition. Great new articles on horse riding, training, equine care, shoes and hoof care, and horse breed facts too.



Our website will be giving a free phone-in class about horse training. One or more horse training experts will be invited on the call to comment on your submitted questions in the live class.

Our goal is to get more horse owners informed on the best horse training techniques. It's free to submit a question and participate in the live class.

Ask Your Horse Training Question Here




Horse Breeding and Breeds Information

Discover many articles that discuss issues that will face horse owners who are breeding a mare or birthing a new foal. Learn about proper foaling techniques, getting a mare ready for breeding, baby foal care and much more.

Our horse breeds section has a collection of historical information and basic facts about popular horse breeds. This is a great read if you are looking to buy or sell an equine or just want to learn more about your current horse. We are always adding to this list of breeds, but a few fairly common breeds including arabian, american paint, appaloosa, palomino and many more are currently posted for your enjoyment. And if you are still looking to name a new or rescued horse, check out our extensive list of horse names.

Equine Training and Trainers

Almost every horse will need the more basic horse training to tolerate regular recreational riding. If you plan to enter eventing shows that require jumping or cutting, your horse may require additional training from a professional horse trainer. A experienced trainer can also help correct behavioral problems, like rearing and bolting while riding. We have put together some helpful resources including training tips and a list of trainers organized by specialty.

Equine Diseases Information and Health Care

Just like any animal or pet, horses can suffer from a variety of different equine diseases and health problems. With basic horse care, stable maintenance, owner education and regular check-ups by a qualified horse vet many of these health conditions can be avoided. Read our informative health and care articles to familiarize yourself with horse problems that can arise.

Horse Tack and Equine Equipment

Discover the many tools of the trade in the horse business. With literally hundreds of choices in the horse tack and equipment industry, these resources will help educate you on what tack will be best for your needs. Get advice on horse blankets, saddles, riding boots and apparel, horse shoes and much more.

Custom Horse Art: Hand Painted Drawings of Your Beloved Horse

Have your horse with your forever by having a professional artist paint or draw a custom portrait of your beloved horse. This will be a memory of your equine friend that you will have with you forever.

Learn how you can have your horse's portrait painted by hand like the one to the left. See an enlarged picture and learn more about horse art.

Share Your Personal Horse Story With Us

We are very excited to start this new horse stories feature on our site. We speak with hundreds of devoted horse owners and pet enthusiasts that tell us the most amazing (and funny) stories about their horses. This new website section will feature horse stories submitted by our horse enthusiast visitors.

Join in the fun and share your personal horse story with other horse lovers that visit our site. All stories are welcome whether a tale a warning, joy, inspiration or defeat. Sharing your animal experiences with others could be the helpful word of encouragement or advice that someone else has been waiting to hear, so don't delay. Read about how you can submit your own horse story.

Horse and Horse Information Highly Recommends these Horse Product Partners.


Horse Training Videos



Over many years working with cutting, reining and working cow horses, I've developed a new training program designed to teach horses to stop, spin, rollback, change leads and work cattle. These videos are different than most. Why? Because they are very detailed and show, step by step, how to thoroughly train the horse. Larry Trocha show's how the training techniques are actually applied in real life schooling sessions. In other words, you'll see horses making mistakes and how to correct those mistakes.

West Coast Horseman Magazine says: "Larry Trocha's videos contain more "How To" instruction than any videos we've seen. Definitely the most detailed"

-- Editorial Note --
This is NOT paid advertising. We strongly support these and personally speak with Larry Trocha about once each week.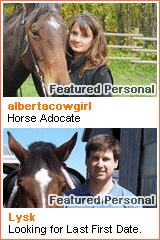 Visit Equestrian Cupid now.
The best and largest equestrian club for meeting the other half for friendship and marriage

Horse Education
Horse Information Topics
Horse Business Owners
Advertise with Us
Have your horse products or services exposed to over 27,000 of our monthly visitors.