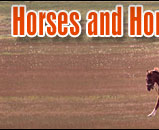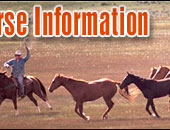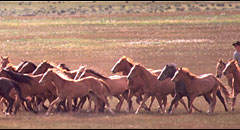 You are here: Horses > Horse Care > Cool out your horse
Keeping Your Horse Cool During The Summer

During the heat of summer you may find that your horse is covered with sweat from a long ride even if you take it easy, so what do you do for your horse? Or you may find that after a hard workout in the winter steam is pouring off your horse after the workout even in thirty degree temperatures. Even if it is cold out is it still necessary to cool down the horse?
Common sense and time is required to cool off a horse. After a workout the horse should always be walked that last mile home. Then when you return to the barn it is important to get the horseís temperature, pulse rate and respiration rate down to a normal level. The first step is to remove the saddle, but you can leave the pad in place until your horse cools down slightly if you donít have a blanket or cooler available. A blanket or cooler is highly recommended over anything else when the weather is cold and windy.
Your horse should then be offered twelve to fifteen swallows of water. A hose should be used to apply cool water to the horse if it is a hot day and then rub them down with a towel. Vigorously rub the entire horse and pay special attention to the area where the saddle was as well as the areas on their neck and flanks, then you should start walking them a bit. Make sure the horse is moving at a good working walk since a sluggish horse will cool too quickly.

A Turkish towel should be used to vigorously rub down the horse if the weather is cold and then you should place a wool cooler on them while they are being walked until they are almost completely cool.

There are many factors that go into the equation for cooling a horse including their condition, the weather, the wind chill and how hard the horse has worked. To decide the best way to cool a horse you should use your best judgment. A horseís comfort should always come before your own.





Read the next horse care article on Stable Design: Keeping it Clean and Organized.



Horse Tack & Riding Equipment Maintenance
Tack needs to be maintained religiously. Synthetic tack can be hosed down or washed in the washing machine. It's lighter in weight, easy to care for, and less expensive than leather. Leather, needs much more care. Inspect it every time you clean it. Wash it every time you use it, and then oil the leather parts a few times a year.
Browse some different types and styles of synthetic and leather horse tack available online.

Horse Education
Horse Information Topics
Horse Business Owners
Advertise with Us
Have your horse products or services exposed to over 27,000 of our monthly visitors.