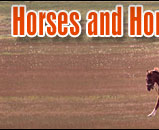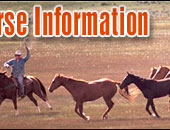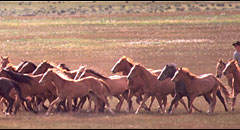 You are here: Horses > Horse Adoption and Rescue > Illinois
Find a Illinois Horse Adoption or Rescue Group Located In Illinois

Kelly Schmitt & Rhonda Thurman Galena, lllinois
We have been rescuing for about 5 years - all capacities. Most of our horses have been abused and are given to us free. We try to spend time with our horses - read to them or just pet them to begin with. We try to help anyone that needs help with their horse. We are only two people trying to make a difference in our horses's lives.






The Right Saddle for Cutting or Reining
For cutting and reining horse events, you definitely need a saddle thatís designed to help you "ride in balance and sit the stop." First, you want a saddle that was designed and built specifically for reining or cutting. Both of these designs have their individual advantages but remember, just because the manufacturer "calls" it a reining saddle doesnít mean it was designed "well" for reining.
Browse more horse training resources that will help you better train your horse.

Horse Education
Horse Information Topics
Horse Business Owners
Advertise with Us
Have your horse products or services exposed to over 27,000 of our monthly visitors.